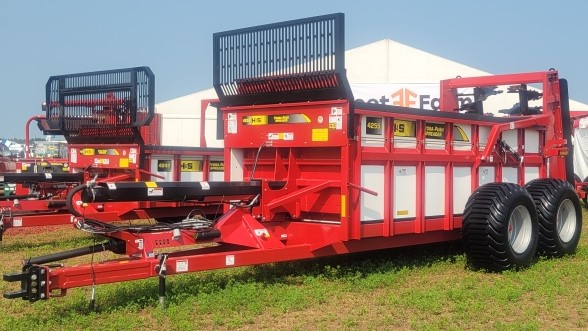 HPV4255 Manure Spreader Information
Vertical beaters.
Vertical beaters feature "REVERSE FLIGHTING" on the top 21″ of the beater flighting. This patented feature allows for an even spread pattern of material.
All Hydraulic Push models use solid virgin grade poly with UV inhibitor, for the floor and sides allowing less friction.
The hydraulic endgate has 2 cylinders with ⅜″ hose and pipe for faster operation in cold weather.
Heavy duty rectangular tubing is used for the pole to ensure strength and long life. Structural channel floor supports spaced 9 ½″ apart are used for maximum floor support.
The bottom drive Monoblock Gearbox features an overrunning clutch that provides protection to the driveline.
The Hydraulic Push-Off System on all models features two hydraulic cylinders that sequence to reduce push-off forces for fast unloading of material.
Beater blades are replaceable and the beater assembly is removable for stockpiling manure.
Removal of the beater assembly is done by simply removing the mounting bolts and disconnecting the PTO gearbox driveshaft.
HPV4155
CAPACITY – OLD RATING
550 Bushel
CAPACITY CU. FT, STRUCK LEVEL
430
SIDE LOADING HEIGHT
81″
2ND OR VERTICAL BEATER HEIGHT
121 ½″
HEIGHT-TOP OF HYD. END GATE (W/O HOOK)
85 ½″
HEIGHT-TOP OF SCREEN (VERT. BEATER ONLY)
117″
INSIDE WIDTH
72″
INSIDE LENGTH
16′
INSIDE DEPTH
53″
OVERALL WIDTH W/TIRES
10′ 2″
OVERALL LENGTH
27′ 5″
STANDARD NUMBER OF BEATERS
2
HORIZONTAL BEATER DIAMETER/LOWER
N/A
HORIZONTAL BEATER DIAMETER/UPPER
N/A
VERTICAL BEATER DIAMETER
34″
REPLACEABLE BEATER PADDLES
YES
REMOVEABLE BEATER ASSEMBLY
YES
HYDRAULIC PUSH CYLINDER DIAMETER
4 ½″
HYDRAULIC PUSH CYLINDER HOSE DIAMETER
½″
HUB
10 Bolt
SPINDLE SIZE
3″
TIRE SIZE – STANDARD
425 x 22.5
TIRE SIZE – OPTIONAL
600/50 x 22.5
HYDRAULIC END GATE
Standard
CYLINDERS ON HYDRAULIC END GATE
2 W-⅜″ Hose
REAR PAN
Standard
JACK
Standard
WOOD SIDE RAILS
Standard
WEIGHT W/TIRES
11,000#
PTO CHOICES
540 RPM PTO
w/ OVER RUNNING TORQUE LIMITING CLUTCH
N/A
1,000 PRM PTO
1¾ or 1¾ w/ SHEAR BOLT PROTECTION
YES
1,000 PRM PTO
1¾ or 1¾ w/ OVER RUNNING TORQUE LIMITING CLUTCH
YES
WARRANTY: SEE OERATORS MANUAL FOR WARRANTY DETAILS AND LIMITATIONS. H&S RESERVES THE RIGHT TO CHANGE ITS PRODUCTS OR THE DESCRIPTION AT ANY TIME WITHOUT NOTICE OR OBLIGATION. MODELS AND SPECIFICATIONS ARE SUBJECT TO CHANGE WITHOUT PRIOR NOTICE.