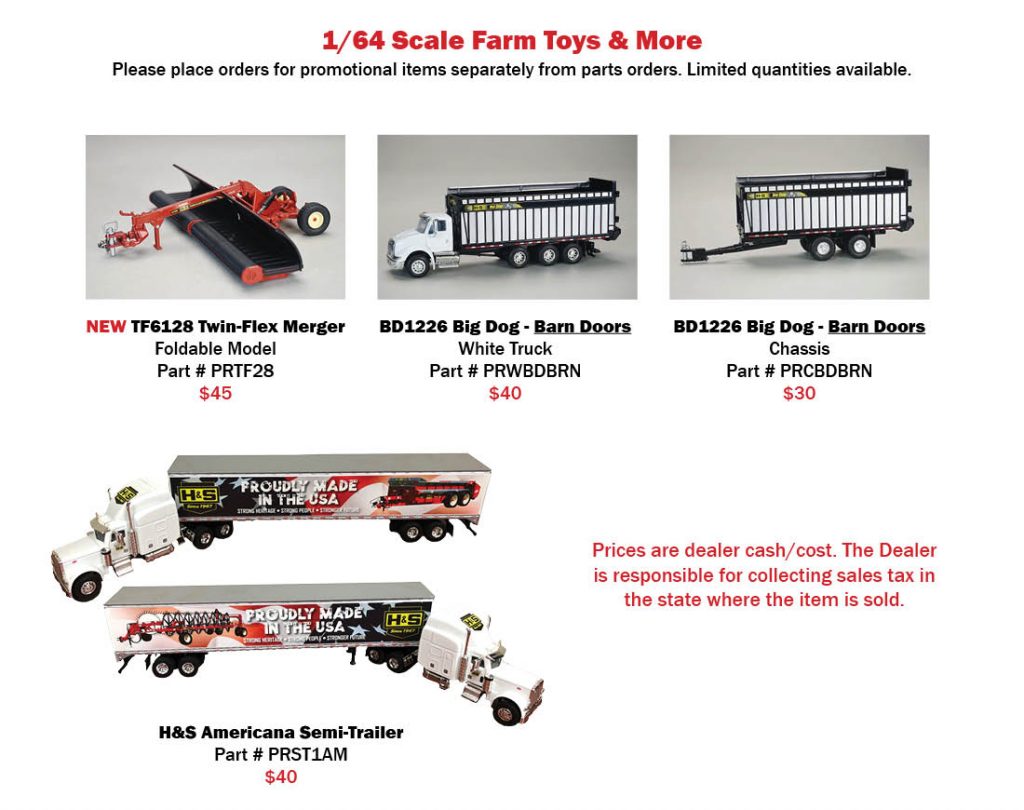 ---
NEW H&S Products – Sales Features
---
Welcome to the H&S Dealer Portal
H&S Dealers,
The H&S Dealer Portal allows you to access the most current H&S information. Following is what is included under the following TABS.
PRICE LISTS: A Wholegoods Price Guide with List Prices is included in this PDF document.
PRICE LISTS: Repair Parts Price List in PDF & Excel formats.
BULLETINS: SALES/PRODUCT INFO – Includes information & updates on products.
BULLETINS: SALES/PRODUCT PRICING – Includes updates on current & new product pricing.
BULLETINS: SALES/EOP – Includes Early Order Programs.
BULLETINS: FINANCE – Includes Finance Programs.
BULLETINS: SERVICE – Includes bulletins on product service items & Service Training.
BULLETINS: PARTS – Includes Parts Order Programs & other miscellaneous Parts Bulletins.
BULLETINS: MISC. INFO – Includes any information not included in the above tabs.
DEALER LETTERS: Includes any letters/communications that were sent to H&S Dealers.
TECHNICAL INFO: Includes features & technical info on H&S products.
COMPARISON CHARTS: includes Product Comparisons & information not included in a Price Update Bulletin.
HOTLISTS: Includes a listing of available Dealer inventory & Dealer Paid Inventory.
WARRANTY: Includes On-Line Warranty Registration, Return Material Authorization Form, Technical Support request, Warranty Claim & H&S Warranty.
MEDIA: RADIO: Contains a variety of radio ads for promotion of H&S products.
MEDIA: PUBLICATIONS: Contains various ads that can be used for promoting H&S products.
MEDIA: CO-OP AD INFO: Contains H&S Co-op Advertising Program Information.
MEDIA: EQUIPMENT PICTURES: Contains a variety of pictures for promotion of H&S products.
MEDIA: VIDEO LINKS: Contains links to Dealer Product Training & Service Videos.
ONLINE ORDERING: Contains Parts Search, Cart & Dealer Account Info.
We are continuing to add Parts Books to the H&S website for you to utilize. You can request a Parts Book at any time by going to the menu bar on the Home page, clicking on "Request a Manual" and filling out the form. A manual will be sent to you shortly after your request.
Please contact the H&S Marketing Department with any questions on the H&S Portal.
Thank you!