Efficiently wraps round bales from 4′ to 6′ in diameter, and large square bales up to 5′ long crosswise, or 6′- 6″ lengthwise on the optional riser shelf.
Maximizes baleage yield, requires less effort and time than conventional wrapping methods, and with only the diameter of the bale wrapped, reduces wrap cost.
The Automatic operating mode allows the H&S Linewrap to be a one man operation. The machine wraps while the operator loads.
The Linewrap's independent power source is a 13 horse power gas engine with electric start. An 18 amp alternator powers the hydraulic system which controls all machine functions.
The self-contained hydraulic system utilizes a large capacity oil reservoir for cooler operation.
Conveniently located controls.
Two 30″ pretensioners have a 65% stretch that allows for a tightly wrapped bale.
The Riser Bars that allow square bales to be wrapped crosswise are standard equipment.
The open design of the 7′ bale platform allows debris to fall through. The length of travel of the push bar is controlled with adjustable limit switches to reduce cycle time.
The bale-push is extended out manually to push the bales further down the bale ramp and complete the wrapping process.
A lock-out valve locks the brakes hydraulically against the tires. This prevents the wrapper from rolling ahead too easily when wrapping so proper pressure is kept between bales.
The telescoping transport pole is pinned to the manual steering assembly when wrapping to keep the Linewrap in a straight line or to steer around obstacles.
The tailgate has a transport bar to lock the tailgate and a hydraulic shutoff valve that must be closed for transport.
Electric-over-Hydraulic Steer and Work Lights are standard equipment.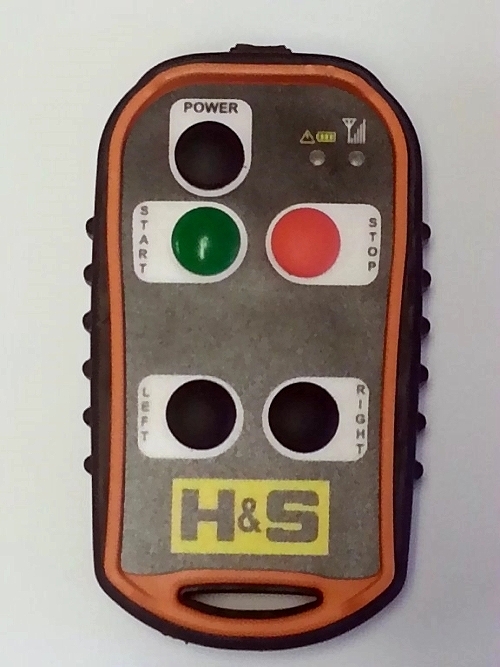 A remote control is standard equipment.
An electric-over-hydraulic steering assembly is controlled by the loading operator with the remote control.
LINEWRAP BALE WRAPPER
POWER
Honda iGX390 w/Electric Start
HYDRAULICS
9½ Gallon Self-Contained Reservoir
CONTROLS
Automatic/Manual/Remote
SHIPPING LENGTH
16′ 10″
WIDTH
8′ 10″
HEIGHT
9′ 4″
WEIGHT
4300 lbs
LENGTH W/TAILGATE DOWN
22′ 9″
TIRES
(4) 11L – 15
FILM TENSIONER
(2) 30″ X 65%
BALE CAPACITY ROUND
Up TO 6′
BALE CAPACITY SQUARE
6′ 6″ Lengthwise
BALE CAPACITY SQUARE
5′ Crosswise
WARRANTY: SEE OERATORS MANUAL FOR WARRANTY DETAILS AND LIMITATIONS. H&S RESERVES THE RIGHT TO CHANGE ITS PRODUCTS OR THE DESCRIPTION AT ANY TIME WITHOUT NOTICE OR OBLIGATION. MODELS AND SPECIFICATIONS ARE SUBJECT TO CHANGE WITHOUT PRIOR NOTICE.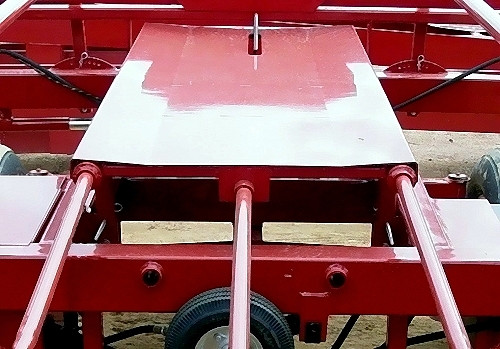 The optional Riser Shelf and 3rd Spear is needed to wrap up to 6 1/2 foot long square bales lengthwise.