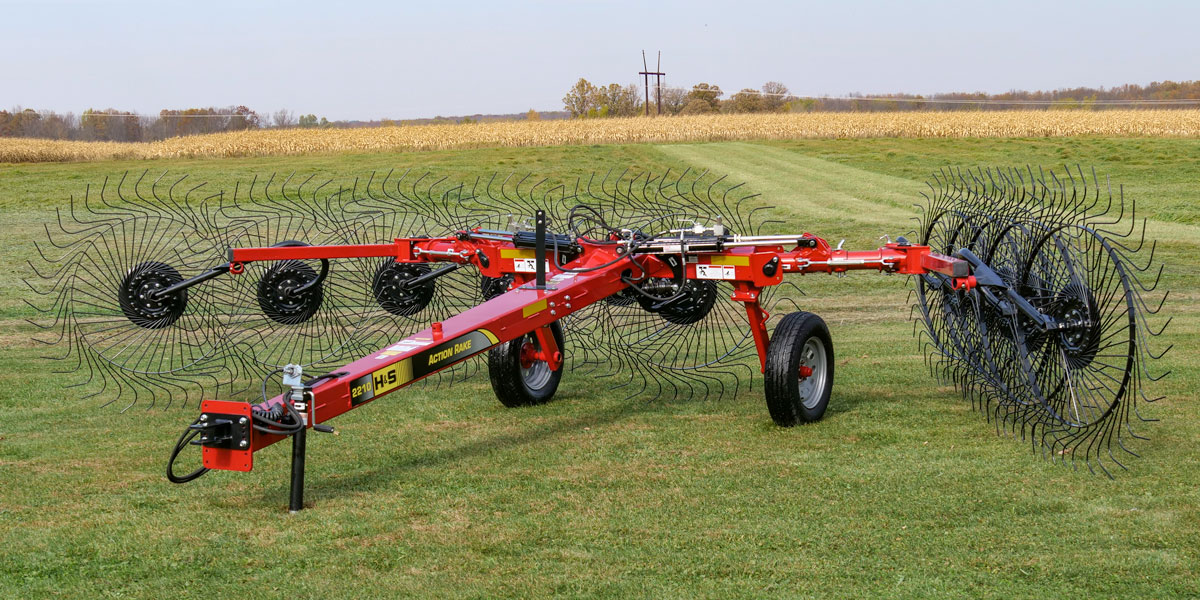 (picture above shown with options)
Available in 8, 10, & 12 Wheel Models
High Clearance Action Rakes features immediate clearance of windrows when raised, as well as greater clearance in the raking position and stability during transport.
An Adjustable Hitch allows you to level the rake for efficient raking.
Raking width is easily adjusted by a single pin & clip.
The operator can adjust the fine tune nut to allow proper rake wheel down pressure on each arm.
A Center Kicker Wheel is optional on all Action Rakes. (shown in picture)
An optional One-Sided Raking Valve Kit is available. (shown in picture)
An optional Turnbuckle Adjustment Kit allows adjustment for raking wider windrows. (shown in picture)
A Highway Lighting Kit is optional. (shown in picture)
2208
NUMBER OF RAKE WHEELS
8
WHEEL DIAMETER
60″
TEETH PER WHEEL
40
TOOTH DIAMETER
7.5mm
RAKE WHEEL HUBS
Tapered Bearings
TRANSPORT WIDTH
12′
TRANSPORT LENGTH
19′ 1″
RAKING WIDTH
16' 6" – 17' 8"
WINDROW WIDTH ADJUSTMENT
4' 5" – 6' 10"
NO. OF RAKING POSITIONS
6
GROUND PRESSURE RAKE WHEEL ADJUSTMENT
Adjustable Nut on Rod
REQUIRED TRACTOR HYDRAULICS
2 Hose / 1 Remote
REQUIRED HYDRAULIC PSI
1,875#
WING CYLINDERS
2″
JACK
Standard
TIRES
ST205/75R15
WEIGHT
1,437#
ONE-SIDED RAKING
Optional
TURNBUCKLE ADJUSTMENT KIT
Optional
HIGHWAY LIGHTING KIT
Optional
SINGLE CENTER KICKER WHEEL
Optional
2210
NUMBER OF RAKE WHEELS
10
WHEEL DIAMETER
60″
TEETH PER WHEEL
40
TOOTH DIAMETER
7.5mm
RAKE WHEEL HUBS
Tapered Bearings
TRANSPORT WIDTH
12′
TRANSPORT LENGTH
20′ 5″
RAKING WIDTH
18' 5" – 21'
WINDROW WIDTH ADJUSTMENT
3' 3" – 7' 3"
NO. OF RAKING POSITIONS
6 Narrow / 6 Wide
GROUND PRESSURE RAKE WHEEL ADJUSTMENT
Adjustable Nut on Rod
REQUIRED TRACTOR HYDRAULICS
2 Hose / 1 Remote
REQUIRED TRACTOR HYDRAULICS
1,875#
WING CYLINDERS
2″
JACK
Standard
TIRES
ST205/75R15
WEIGHT
1,633#
ONE-SIDED RAKING
Optional
TURNBUCKLE ADJUSTMENT KIT
Optional
HIGHWAY LIGHTING KIT
Optional
SINGLE CENTER KICKER WHEEL
Optional
2212
NUMBER OF RAKE WHEELS
12
WHEEL DIAMETER
60″
TEETH PER WHEEL
40
TOOTH DIAMETER
7.5mm
RAKE WHEEL HUBS
Tapered Bearings
TRANSPORT WIDTH
12′
TRANSPORT LENGTH
21′ 3″
RAKING WIDTH
21′ – 24′ 4″
WINDROW WIDTH ADJUSTMENT
2' 10" – 7' 3"
NO. OF RAKING POSITIONS
6 Narrow / 6 Wide
GROUND PRESSURE RAKE WHEEL ADJUSTMENT
Adjustable Nut on Rod
REQUIRED TRACTOR HYDRAULICS
2 Hose / 1 Remote
REQUIRED TRACTOR HYDRAULICS
1,875#
WING CYLINDERS
2″
JACK
Standard
TIRES
ST205/75R15
WEIGHT
1,794#
ONE-SIDED RAKING
Optional
TURNBUCKLE ADJUSTMENT KIT
Optional
HIGHWAY LIGHTING KIT
Optional
SINGLE CENTER KICKER WHEEL
Optional
WARRANTY: SEE OERATORS MANUAL FOR WARRANTY DETAILS AND LIMITATIONS. H&S RESERVES THE RIGHT TO CHANGE ITS PRODUCTS OR THE DESCRIPTION AT ANY TIME WITHOUT NOTICE OR OBLIGATION. MODELS AND SPECIFICATIONS ARE SUBJECT TO CHANGE WITHOUT PRIOR NOTICE.
An optional One-Sided Raking Valve Kit is available
An optional Turnbuckle Adjustment Kit allows adjustment for raking wider windrows.
A Highway Lighting Kit is optional.
A Center Kicker Wheel is optional on the 2200 Series Rakes.