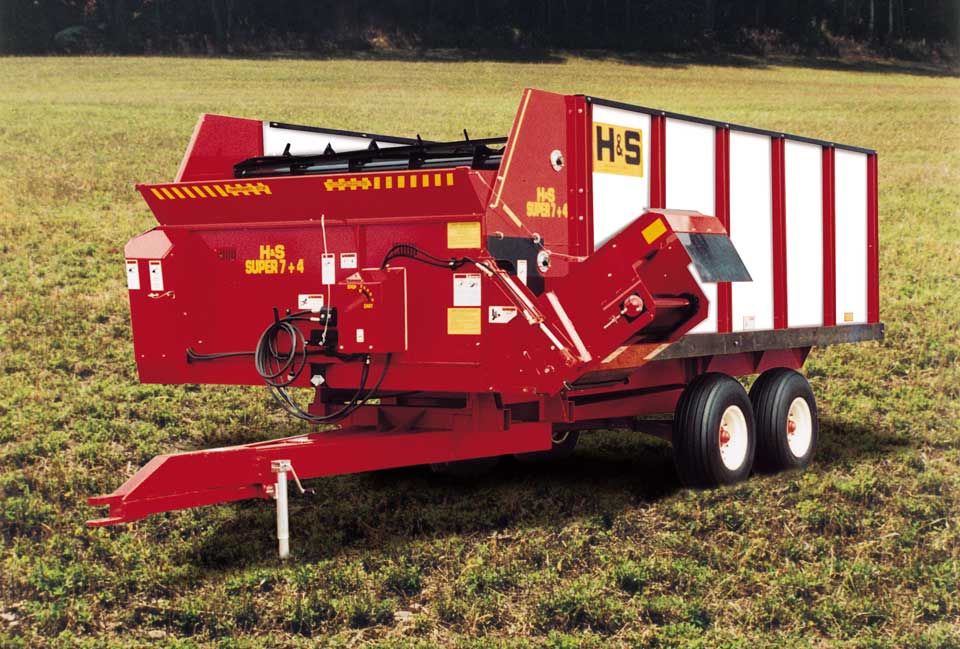 The H&S Feeder Box is available in a 16′ Front Unload model
Feeder Box can be mounted on a 12 ton tandem chassis with 12.5L x 15 tires, truck mounted, or running gear mounted.
A very simple, easy to operate electric-over-hydraulic control box mounts on the tractor or in the truck cab.
Available with an optional scale system for truck or chassis mount.
7-4 FEEDER BOX
POWER
HYDRAULIC DRIVE
HYDRAULIC REQUIREMENTS
(2000 PSI, 10 GPM.)
FEEDER APRON DRIVE
WORM GEAR (BRONZE)
SPEEDS
INFINITE VARIABLE
MAIN APRONS
4 CHAINS – 667H PINTLE
BEATERS
2-18″ DIAMETER, 4 SPIRAL BAR
BEATER DRIVE
#50 ROLLER CHAIN
CROSS CONVEYOR
#550 ROLLER CHAIN OR ANGLE CROSS SLATS
CROSS CONVEYOR DRIVE
SPROCKET AND #50 ROLLER CHAIN
CROSS CONVEYOR WIDTH
22″
DISCHARGE
LEFT SIDE UNLOADING ELEVATOR
DISCHARGE OPENING
LEFT SIDE UNLOADING ELEVATOR
DISCHARGE HEIGHT

MINIMUM (45 DEGREE ANGLE) 33″
MAXIMUM (0 DEGREE ANGLE) 39″

INSIDE LENGTH
16′
INSIDE WIDTH
7′ 4″
INSIDE HEIGHT
48″
CAPACITY
BY VOLUME, STRUCK LEVEL 454 CU. FT.
BY WEIGHT 20,000 LBS.
OVERALL LENGTH
23′ 7″
OVERALL WIDTH

CONVEYOR UP 9′ 8″
CONVEYOR DOWN 12′ 4″

OVERALL HEIGHT (LOADING HEIGHT)
8′ 2″
WEIGHT
5570 LBS.
SIDES
½″ FIBERGLASS REINFORCED PLYWOOD (FRP)
FLOORS
½″ POLY BONDED PLYWOOD
TIRES
12.5L X 15, TANDEM
RUB RAIL – WOOD
STD
EMERGENCY STOP MECHANISM
STD
HIGHWAY LIGHT PKG.
STD
ELECT. CONTROLS
STD
TRUCK MOUNTED VERSION
OPTIONAL
HEIGHT FROM BOTTOM OF FRAME TO TOP OF BOX
69″
RECOMMENDED TRUCK CAB TO CENTER OF AXLE MINIMUM
150″
WARRANTY: SEE OERATORS MANUAL FOR WARRANTY DETAILS AND LIMITATIONS. H&S RESERVES THE RIGHT TO CHANGE ITS PRODUCTS OR THE DESCRIPTION AT ANY TIME WITHOUT NOTICE OR OBLIGATION. MODELS AND SPECIFICATIONS ARE SUBJECT TO CHANGE WITHOUT PRIOR NOTICE.
Available with an optional scale system for truck mount or chassis mount.